Wall-to-Wall Studios Designs and Develops Website for the Silver Eye Center for Photography
September 8, 2014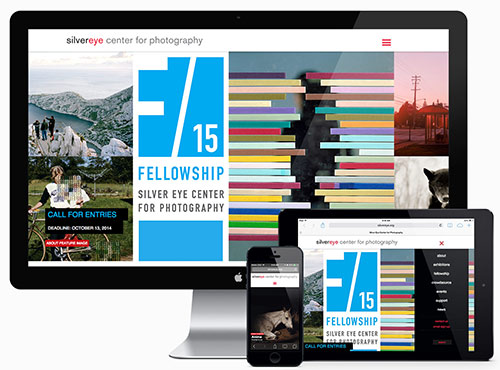 Wall-to-Wall Studios designed & developed the website for The Silver Eye Center for Photography, a nationally-recognized, non-collecting institution exclusively dedicated to contemporary photography. Founded in 1985, Silver Eye has been at the forefront of celebrating photography, both as an expressive art form and as a medium that brings to light the telling details and larger stories that influence and inform an understanding of ourselves and the world. With a singular commitment to exhibiting and promoting contemporary photography and photo-based multimedia, Silver Eye is unique in Pittsburgh and the surrounding region.
Silver Eye began in 1979 as two separate organizations: Blatant Image Gallery, a cooperative gallery designed to provide exhibition space to local fine art photographers, and The Silver Eye Photographic Workshop, which brought nationally known photographers to Pittsburgh to exhibit their work and to conduct workshops. These two organizations merged in 1985 and became the Blatant Image/Silver Eye, which later changed to Silver Eye Center for Photography in 1992.
The responsively designed website was developed with the WordPress content management system and utilizes parallax scrolling to deliver an elegant user experience. The responsive design approach responds to the user's behavior and environment based on screen size, platform and orientation by using a mix of flexible grids and layouts, images and an intelligent use of CSS media queries. As the user switches from their laptop to iPad to mobile device, the website automatically switches to accommodate for resolution, image size and scripting abilities.
View the Silver Eye website case study.