Wall-to-Wall Studios Designs "M is for Museum" Exhibit Branding & Marketing Campaign
October 15, 2011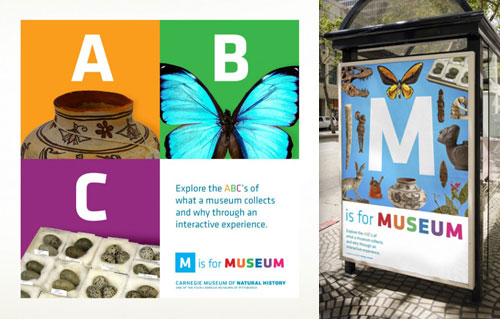 Wall-to-Wall Studios designed the exhibit branding and promotional campaign for M is for Museum, a new interactive exhibit for children & families at the Carnegie Museum of Natural History. The self curated/designed exhibit is an exciting journey into the behind-the-scenes world of amazing museum objects and the scientists who collect, care for, and study them. Designed for kids 5 to 13 years old—but enjoyable for visitors of all ages—M is for Museum features multimedia and hands-on activities that help curious young audiences discover how museums protect, explore, and explain the cultures of the world and nature in all its wonder. The exhibit branding embraces the new identity system designed by Wall-to-Wall Studios for the Carnegie Museum of Natural History (and the Carnegie Museum of Art).
View the M is for Museum branding case study.
View the Carnegie Museums of Natural History and of Art branding case study.