Wall-to-Wall Studios Designs Branding for "A Winter Landscape" Public Art Installation
February 20, 2015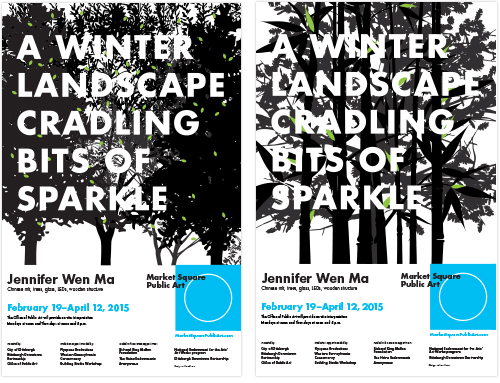 W|W designed the integrated branding (visual identity, posters, environmental components) for A Winter Landscape Cradling Bits of Sparkle, a public art installation in Market Square by Jennifer Wen Ma. The forest of A Winter Landscape Cradling Bits of Sparkle is composed of a variety of trees: weeping willows, evergreens, flowering fruit trees, and bamboos. The trees are painted black with Chinese ink, creating a stark landscape that is seemingly in a state of arrested development. The trees will evolve through the course of the exhibition – over time, green tender shoots form on the bamboo and willow branches, and flowers bloom on the fruit trees, announcing the arrival of spring.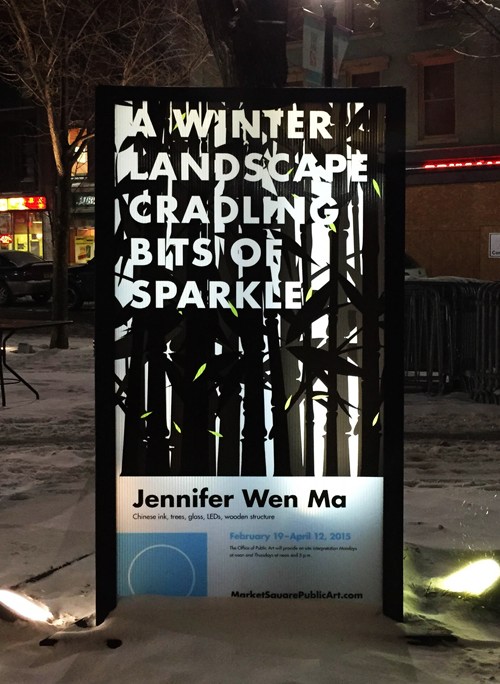 The installation marks the the second project of the Market Square Public Art Program, presented by the Pittsburgh Downtown Partnership and the City of Pittsburgh, with production support by the Office of Public Art. 
Read more in the Pittsburgh Tribune Review or NEXT Pittsburgh articles.