Wall-to-Wall Studios Creates Digital Experience for Pittsburgh Marathon
April 29, 2021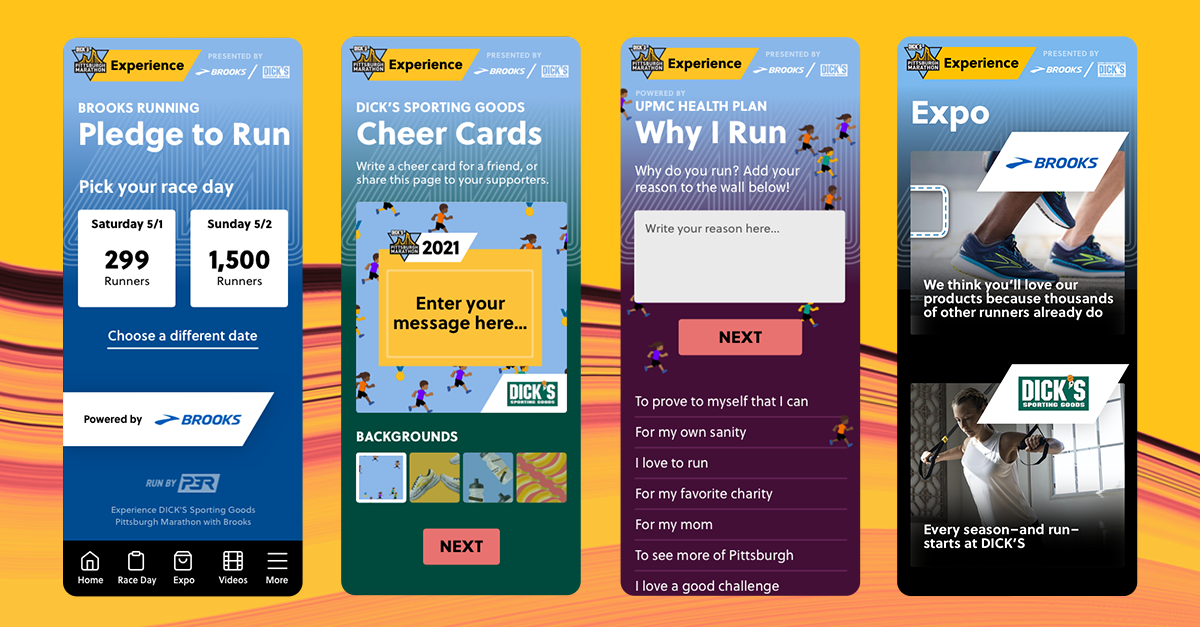 Continuing the ongoing collaboration with P3R, Wall-to-Wall Studios designed and developed the branding, website ecosystem, and digital experience for the 2021 DICK'S Sporting Goods Pittsburgh Marathon, the largest annual fitness activity in the region.
At the center of the 2021 marathon is the Marathon Experience, a mobile-first web application. Presented by DICK'S Sporting Goods and Brooks, the Marathon Experience serves as a hub for participants, including thoughtful features such as shareable cheer cards, a digital "Why I Run" wall, sponsor promotions, and curated video content. In lieu of an in-person event, the Marathon Experience is creating excitement and race day jitters for each individual runner, as they select when and where they will be running. The Marathon Experience, which is already proving to be a success with user-generated content being shared across social channels, is anticipated to be an integral component of future P3R events.
More than 3,500 runners and supporters interacted with the Virtual Race Experience during race weekend. More than 170 runners posted on the "Why the Run" Wall, leaving answers including "for health and happiness," "because I conquered cancer," "for my kids," "to prove I can do hard things," and many more. Friends and family supported runners and created 141 cheer cards. Runners and spectators also used the hashtag #MOVEPittsburgh on social media to connect with and support runners all the way to the finish line. Ninety-nine runners achieved a new personal record and rang the Virtual PR bell.
Before working on the Marathon Experience, W|W also designed & developed the DICK'S Sporting Goods Pittsburgh Marathon website which sits within the P3R digital ecosystem, where individual race websites are united under the P3R umbrella. This enables a single content management system to be used while maintaining the brand equity of each individual race.
To learn more about the Marathon Digital Experience, and the P3R digital design system, check out the full case study.
Read about the Marathon Digital Experience in Endurance Sportswire and in this post-event article.