FLUX HAWAII Magazine profiles Wall-to-Wall Studios
May 25, 2011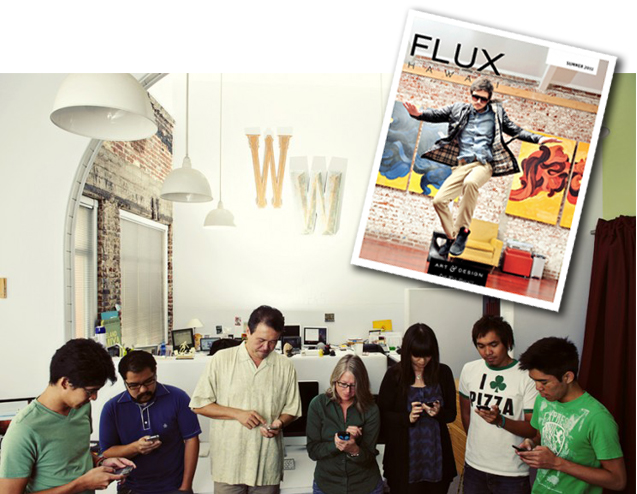 "FLUX Hawaii is the only magazine propelling an entrepreneurial generation toward positive social and creative action within our communities through a thoughtful cultivation of dialogue and a strong commitment to quality of design." Cool. And for some reason, they still decided to do a profile of Wall-to-Wall Studios as part of their "Art & Design" issue, which just hit the newsstands this month.
"Most of us are capable of discerning which advertisements are successful and which aren't simply through observation of our responses to them. But when it comes down to it, what does it really take to create a successful campaign? Nestled in the bustling creative hub that is downtown Chinatown, the design firm Wall-to-Wall Studios is working to address this very question..."
Special thanks to the fine folks of FLUX Hawaii, publisher/editor Lisa Yamada, creative director Ara Laylo , writer Carolyn Mirante and photographer John Hook.  Interview, photoshoot at the Honolulu office... the whole nine yards. Do yourself a favor and pick up a copy of this issue, or better yet, subscribe.
Also, W|W co-founder Bernard Uy will be a featured speaker ("Humor, Emotion and Wit in Branding") at FLUX Hawaii's all day multimedia event "Talk Story Sessions" on May 29th at the Waikiki Edition Hotel. See you there.