HAWAI'I LGBT LEGACY FOUNDATION
CELEBRATING PRIDE WITH ALOHA
Committed to a legacy of hope, equality, and unity, the Hawai'i LGBT Legacy Foundation educates, facilitates, and empowers LGBTQIA+ people as integral members of Hawaii's diverse communities. The Foundation hired W|W to design and launch a microsite dedicated to the numerous activities and events during Hawaii's Honolulu Pride Month which has been organized each October since 1990.
In 2019, the parade became the largest in the state with over 30,000 attendees. However, due to the pandemic, the festivities were forced to go virtual. For Honolulu Pride 2021, W|W aimed to create a virtual experience that echoed the excitement and joyous nature of the colorful grand celebration that is usually Honolulu Pride.
A CASCADING RAINBOW OF EVENTS
During the discovery phase, W|W learned that the various events and virtual shows were to be the centerpiece of this digital experience. As such, the microsite allows each event to shine through this interactive explore section. Each entry is connected to a tag to allow visitors to choose how they want to take part in the festivities. As the user scrolls, the background colors change creating a "walking on the rainbow" effect.
Through the active mesh gradient, colorful scroll, and hero videos on each page, a colorful sense of motion was integrated to create that feeling of liveliness that is so synonymous with Pride parades throughout the world.
A HONOLULU PRIDE GLOW UP
To support the initiative, W|W introduced a new color palette, custom illustrations, and more expressive typography to the Honolulu Pride brand. Each graphic element was created with a Hawai'i sense-of-place design philosophy creating a more unique place-based look and feel.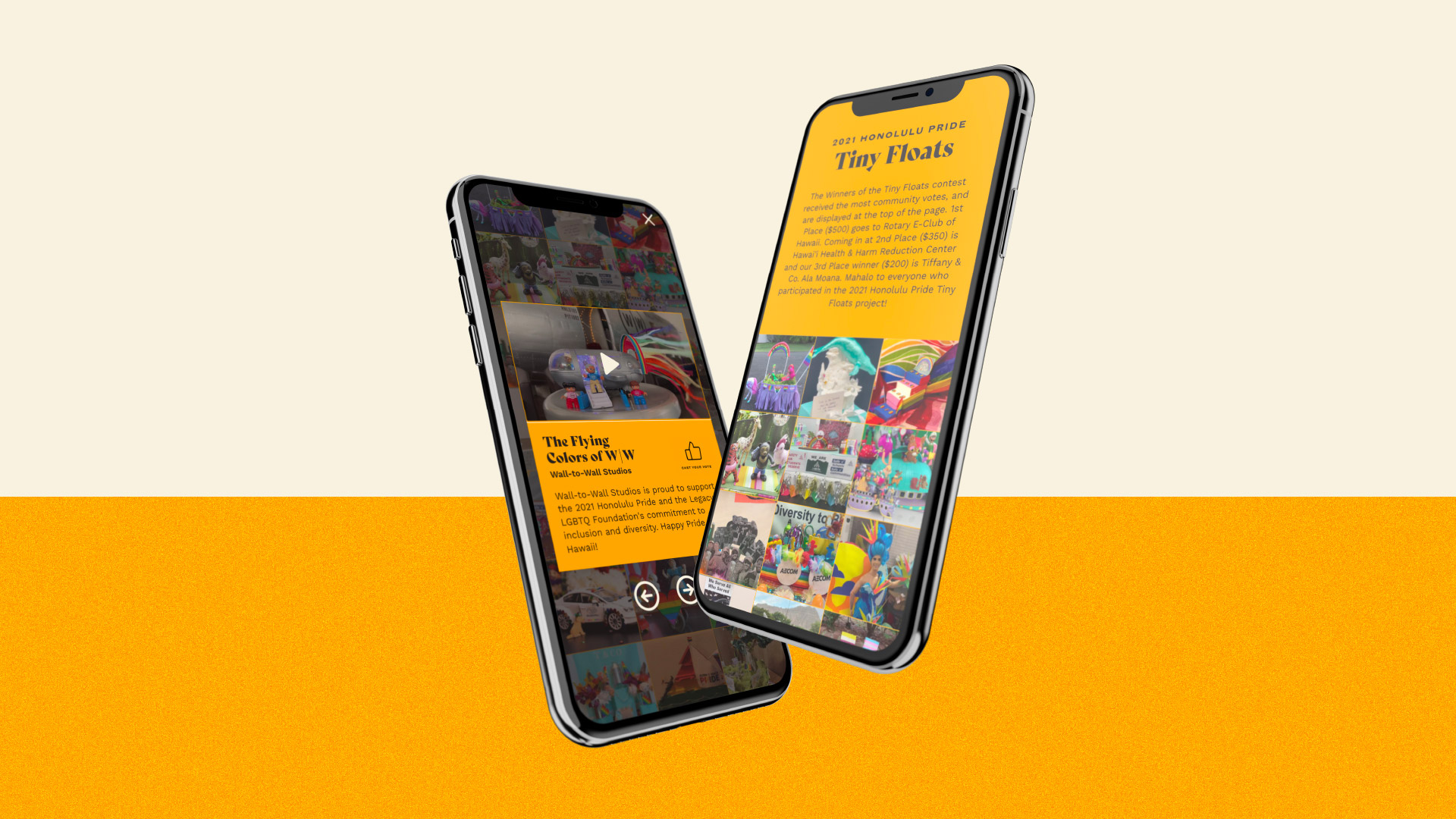 A FLUID DESIGN SYSTEM
W|W developed a range of blocks within the template to allow the Foundation team to maintain flexibility and control over the microsite for years to come. The CMS was built to allow the Foundation team to maintain creativity over the content and design without being overly complicated or difficult to use.
Additionally, a custom voting feature was produced to allow for a native and interactive online Tiny Floats competition. The experience was designed so users could easily scroll through and watch all Tiny Floats entries while voting for their favorites.