PITTSBURGH DOWNTOWN PARTNERSHIP
ENVISION DOWNTOWN
A public/private partnership between the Mayor's Office and the Pittsburgh Downtown Partnership (PDP), Envision Downtown was formed to accelerate downtown's economic growth and competitiveness. Envision Downtown's mission is to advance mobility and livability in Pittsburgh's central neighborhoods, by making it safer, more attractive, and convenient for everyone to get to, through, and around Downtown. W|W was hired by the PDP to provide creative support for a series of collaborations that are focused on nimble, high-impact, design-driven enhancements to transit focal points that would inform longer-term transformation changes to the city's mobility networks.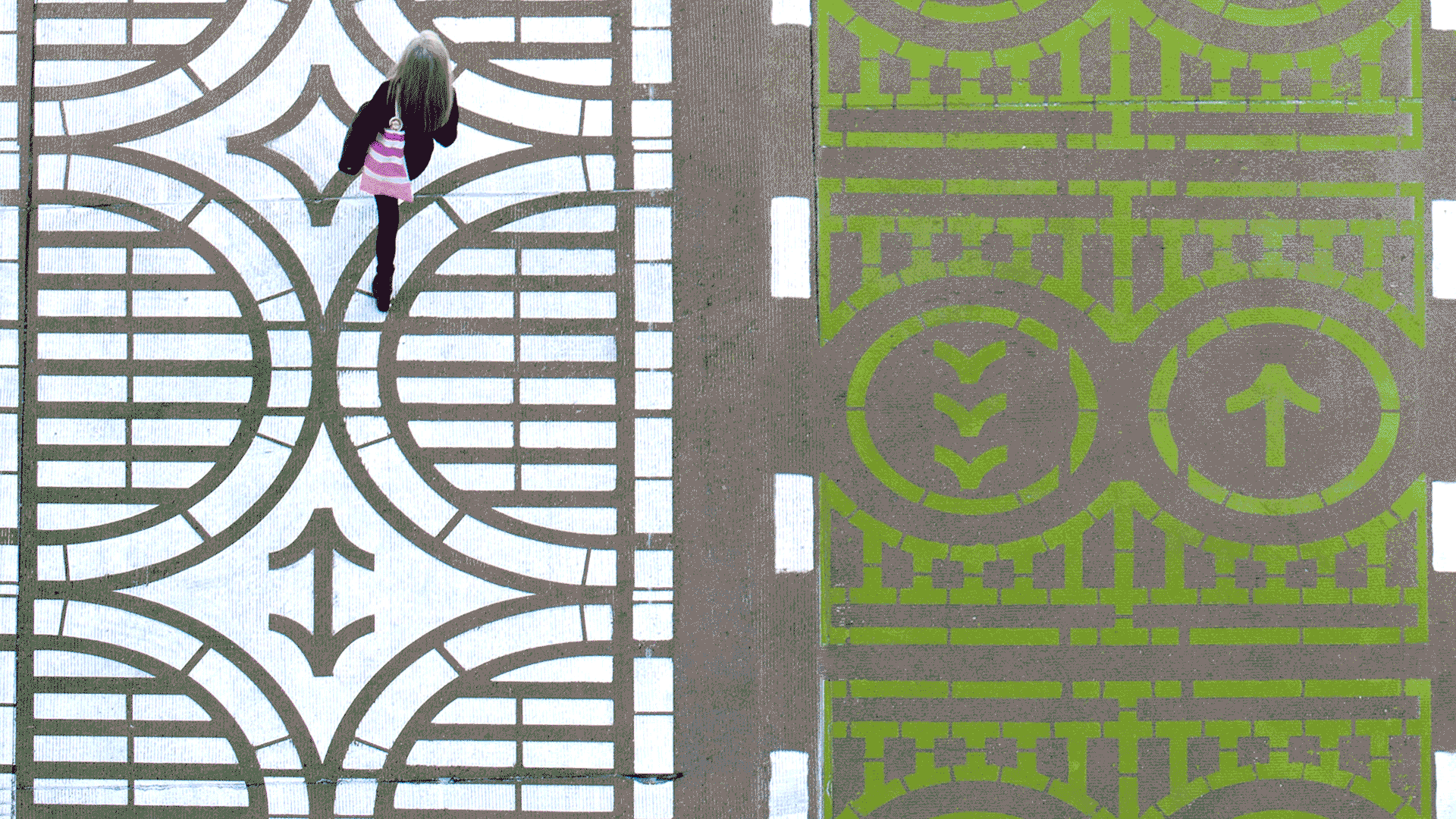 CROSSWALK
W|W's initial work in support of Envision Downtown involved designing a custom crosswalk for the intersection of 11th Street and Penn Avenue. The deliberately graphic crosswalks are intended to improve safety by slowing drivers at the busy intersection adjacent to the transportation center and dedicated bike lane by disrupting the street surface in an artful way, while still fitting into the urban context. The designs help send a clear message to drivers that pedestrians and cyclists use these streets too. While the project priority was the improvement of safety, experience, and accessibility for pedestrians and cyclists, W|W was also challenged to subtly incorporate Pittsburgh's personality into the crosswalks. This was achieved by housing the directional arrows and chevrons inside design patterns reminiscent of the iconic Pittsburgh bridges and a nod to the steel history. The green bike lanes are accented with designs inspired by the Three Sisters suspension bridges while the white pedestrian lanes hint at the arch-type bridges found on the Fort Duquesne and 16th Street bridges.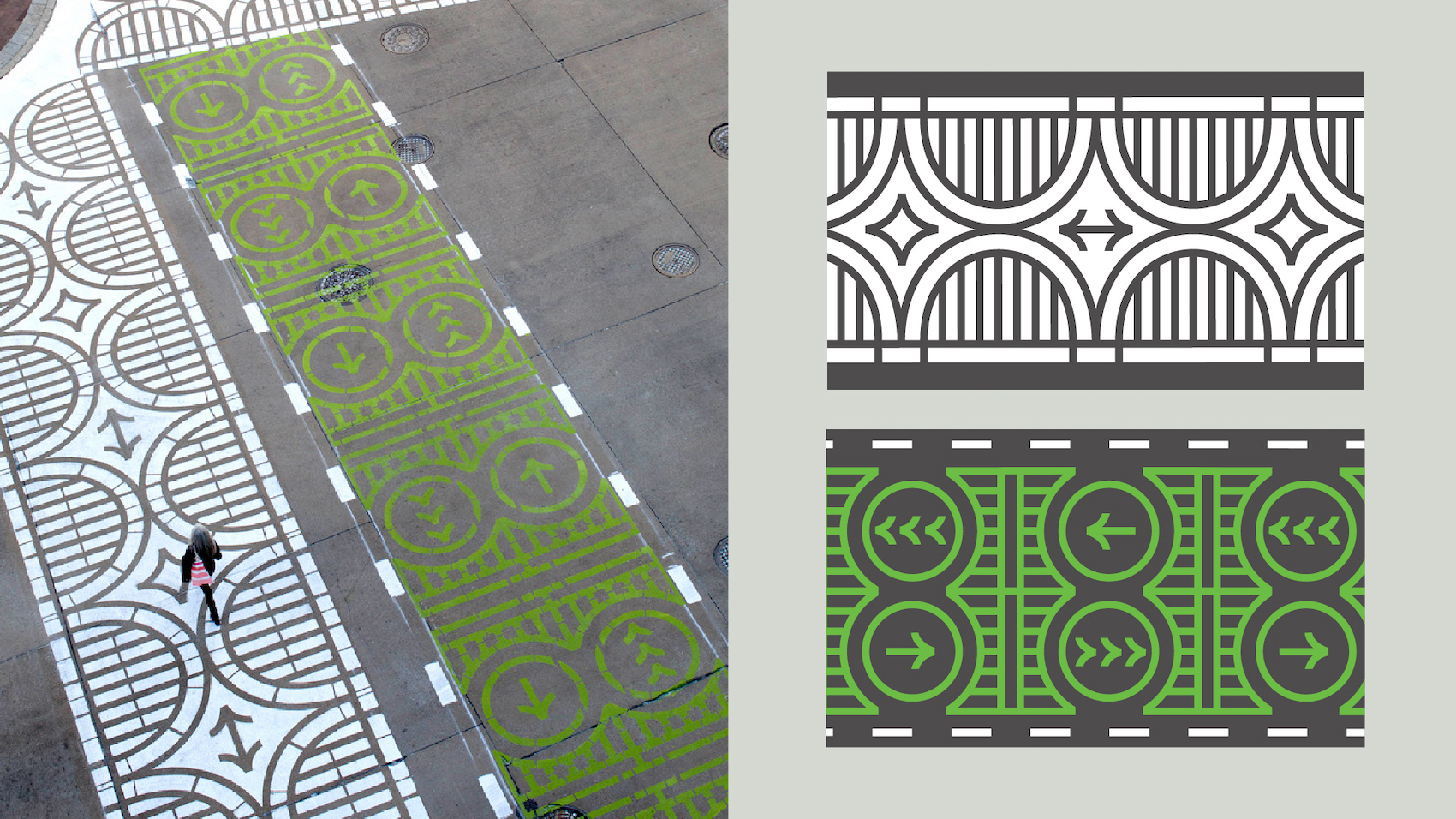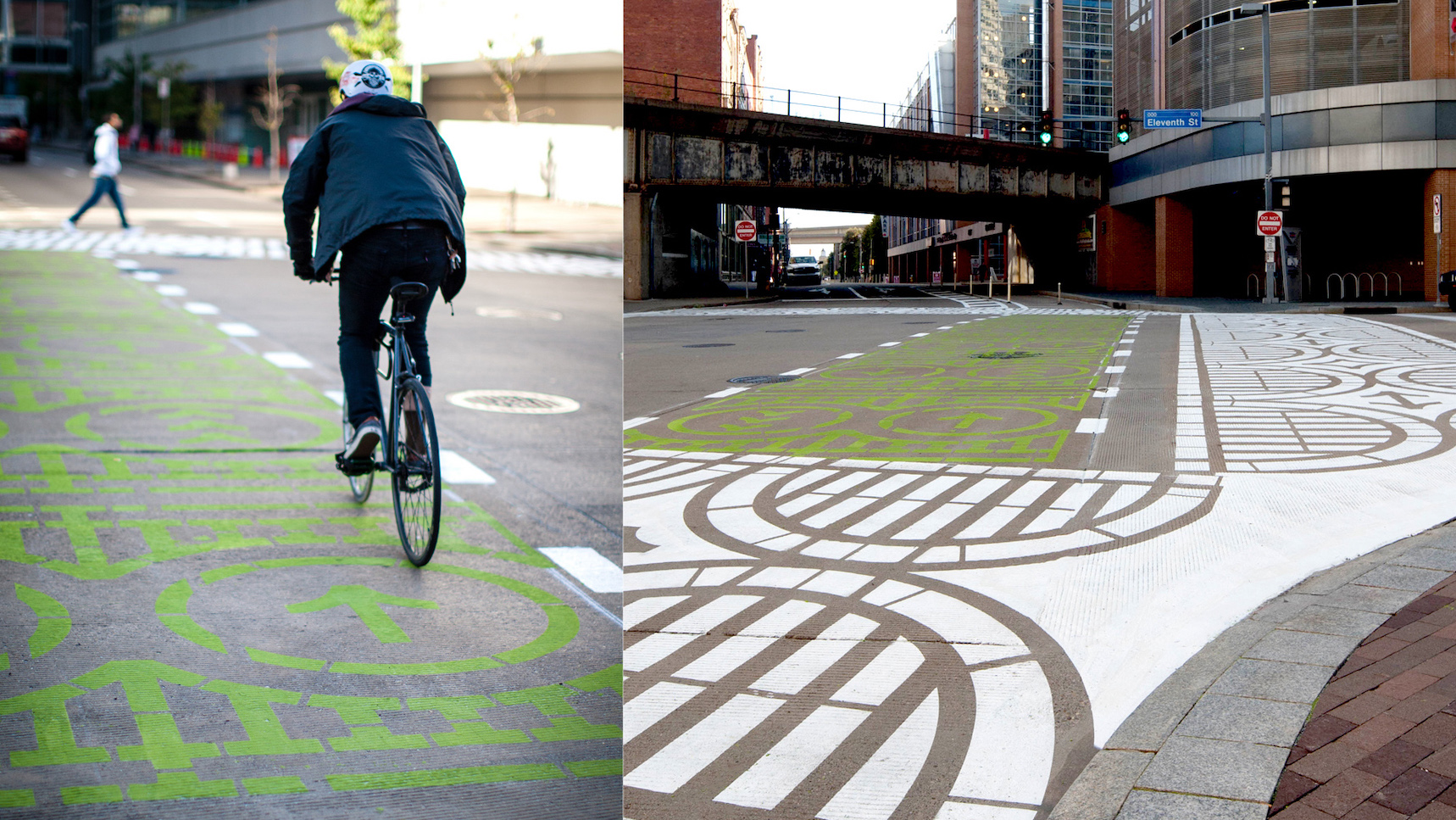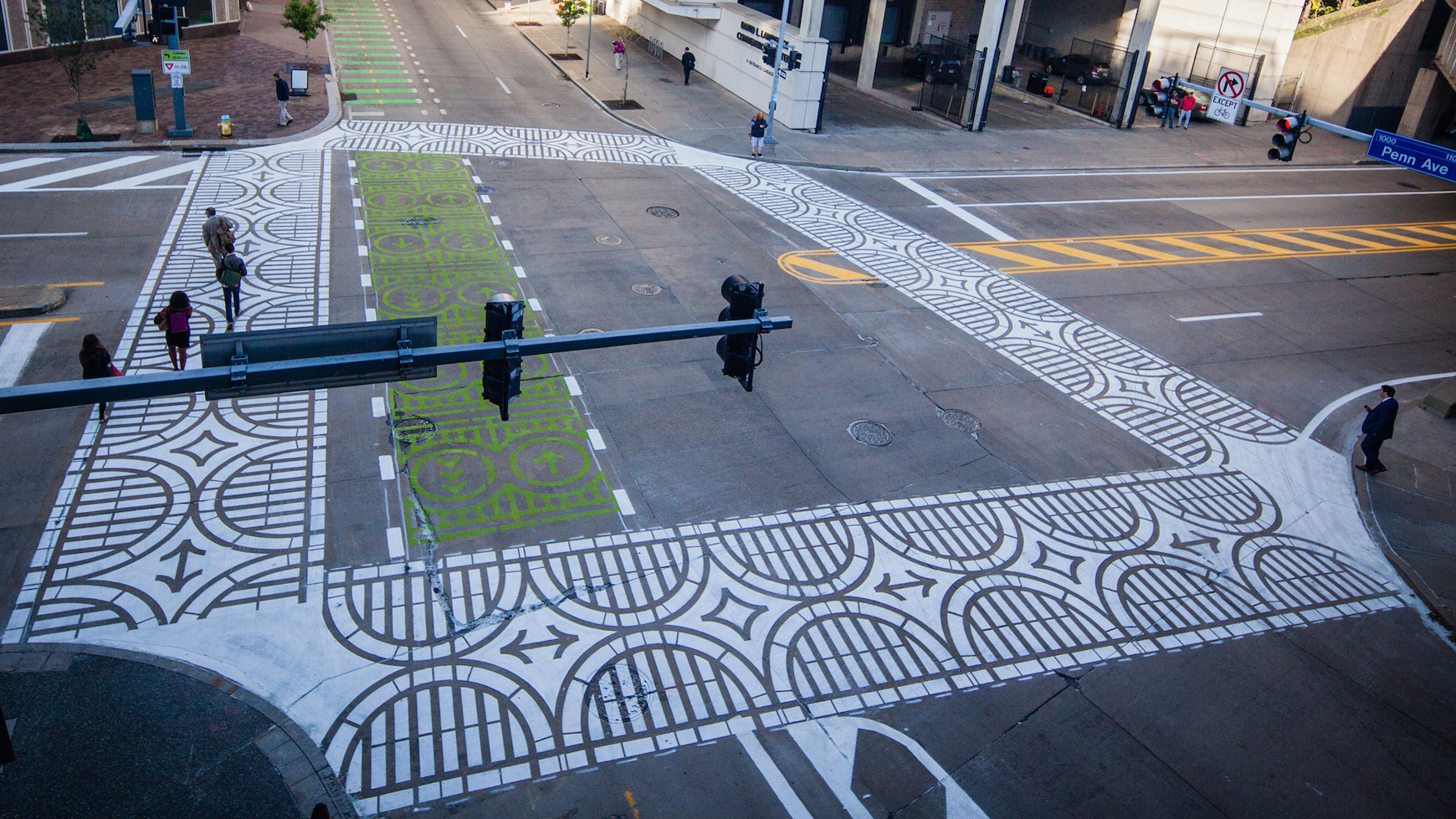 ENHANCED TRANSIT STOP
Another collaboration involved W|W creating branded elements to enhance the recently upgraded bus stop (new amenities including extra space, shelters, and real-time info) at Smithfield Street at Sixth Avenue. W|Ws deliverables included the concept and design of prototype transit signage for the new bus stop and marketing materials that promoted the free T" ride downtown from the Wood Street station. The W|W-led design process was effective in helping to differentiate service levels between East Busway service (P1/P2 routes), local Port Authority routes, and regional transit service providers.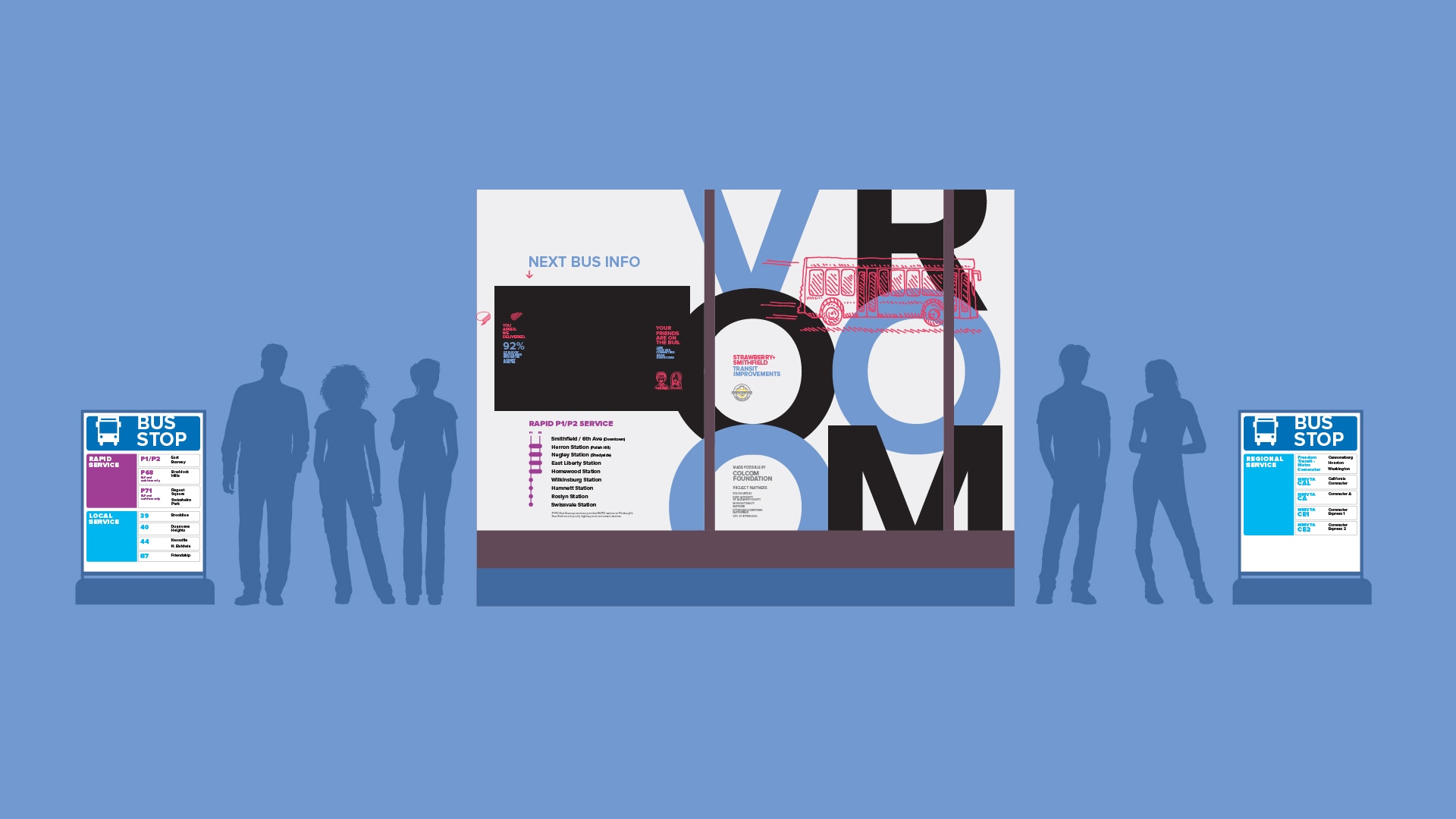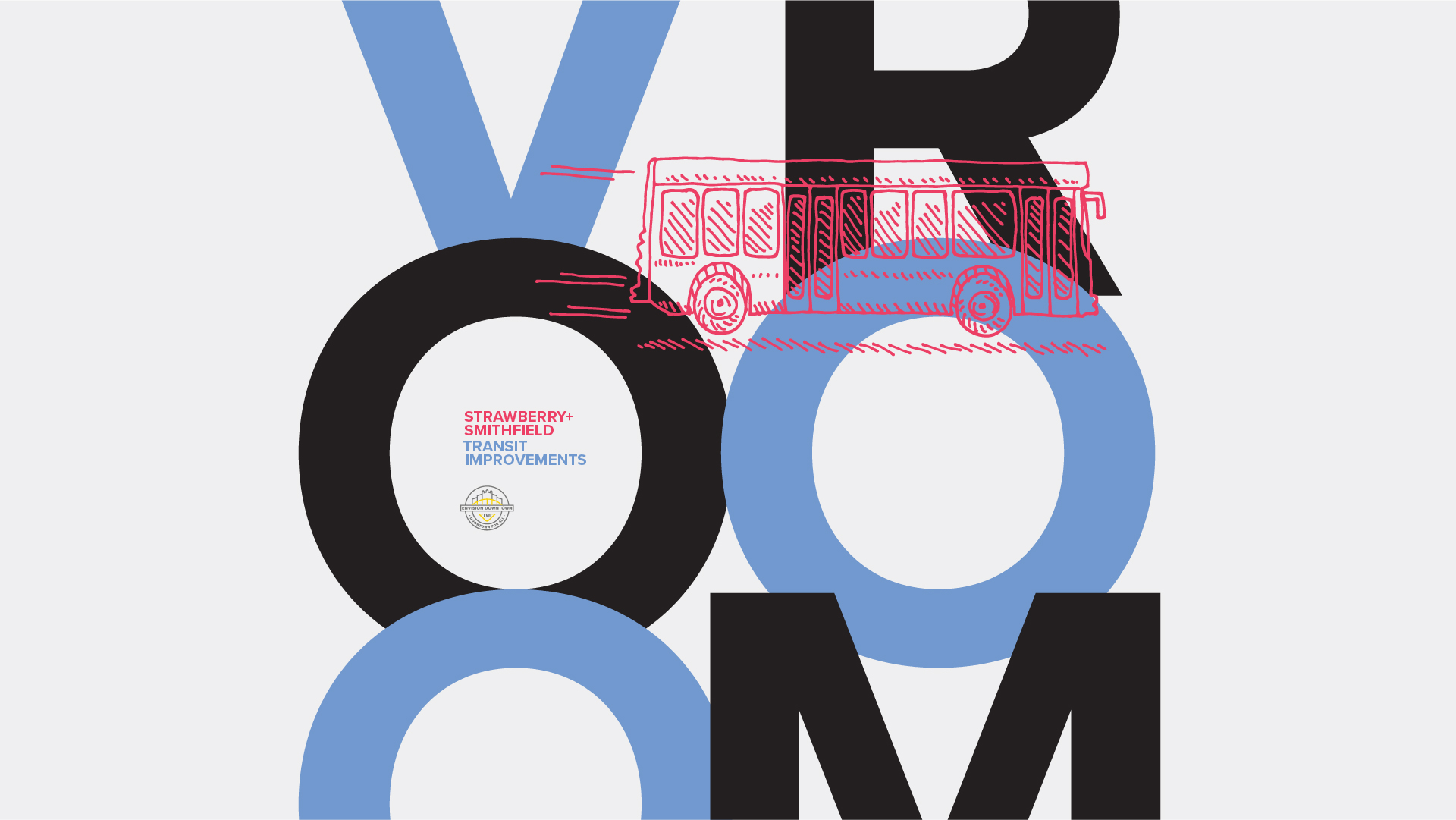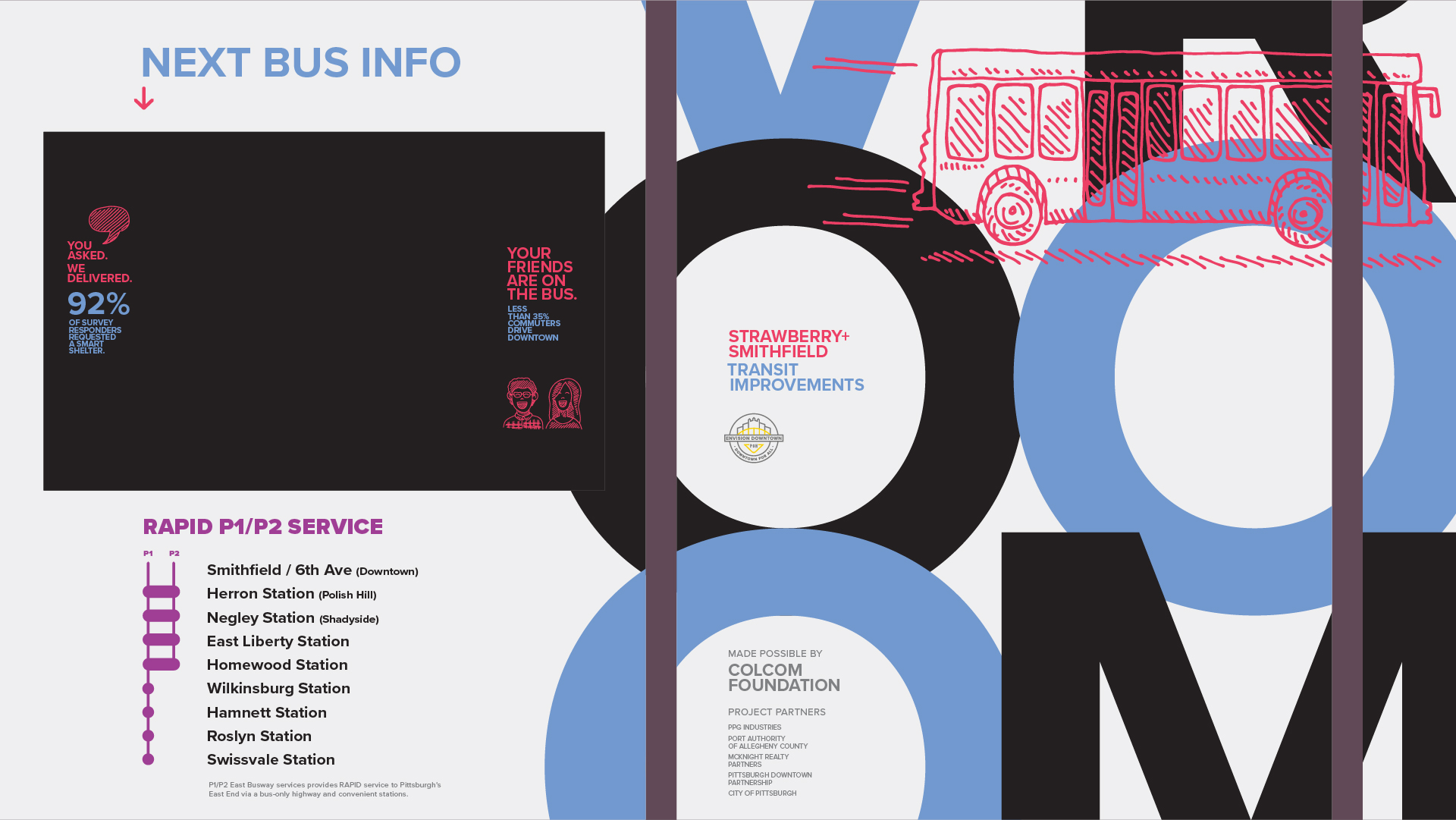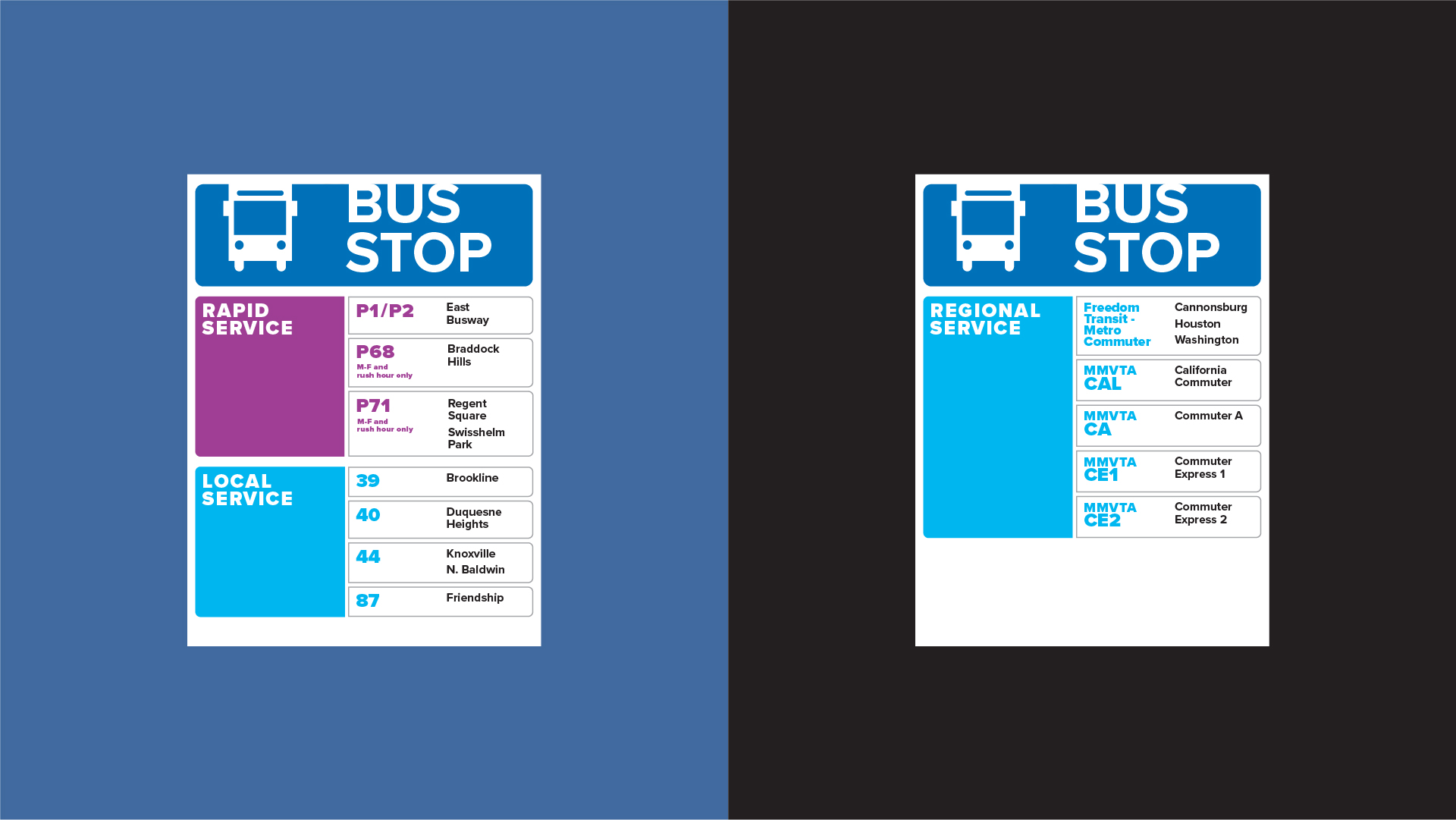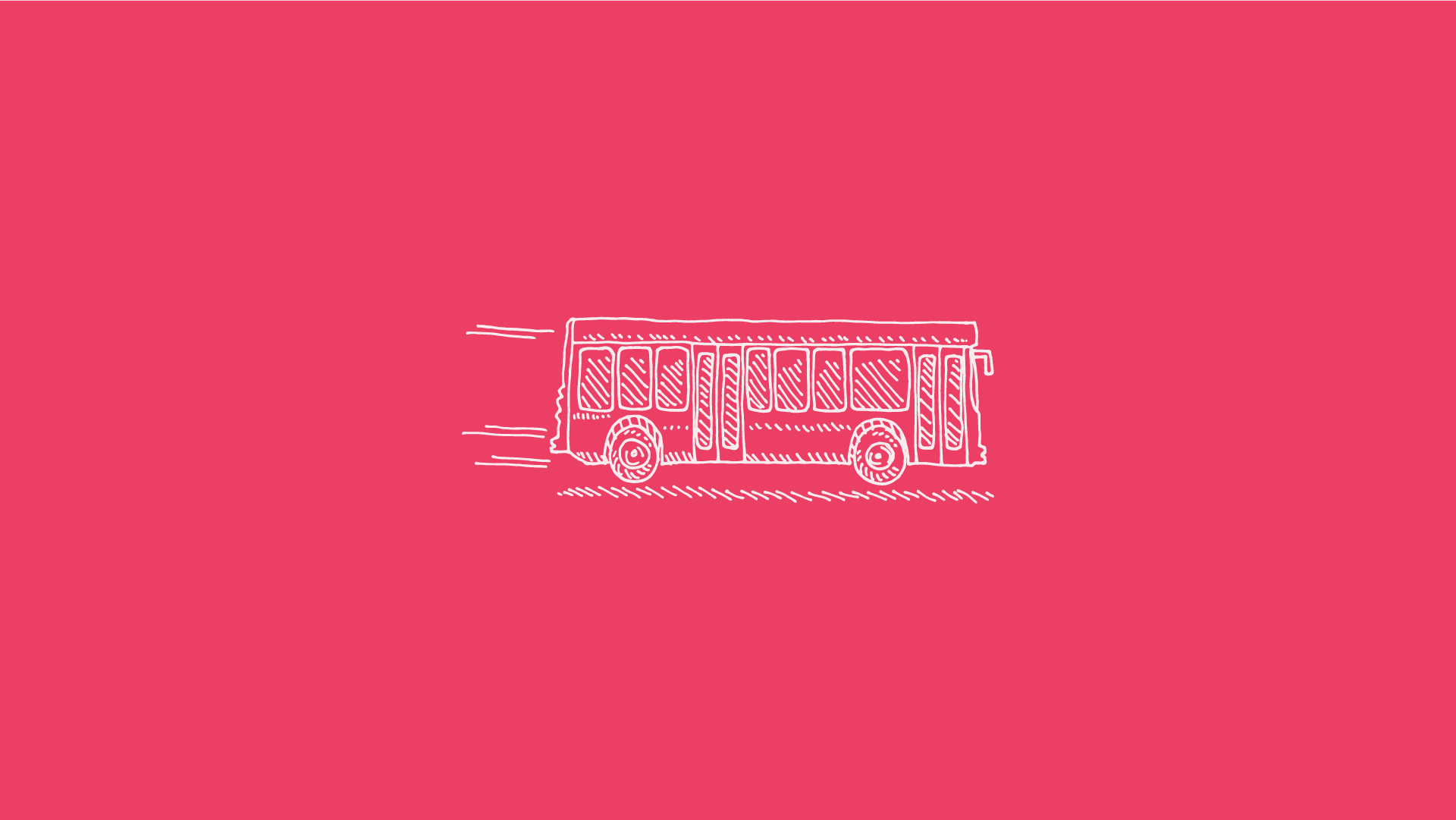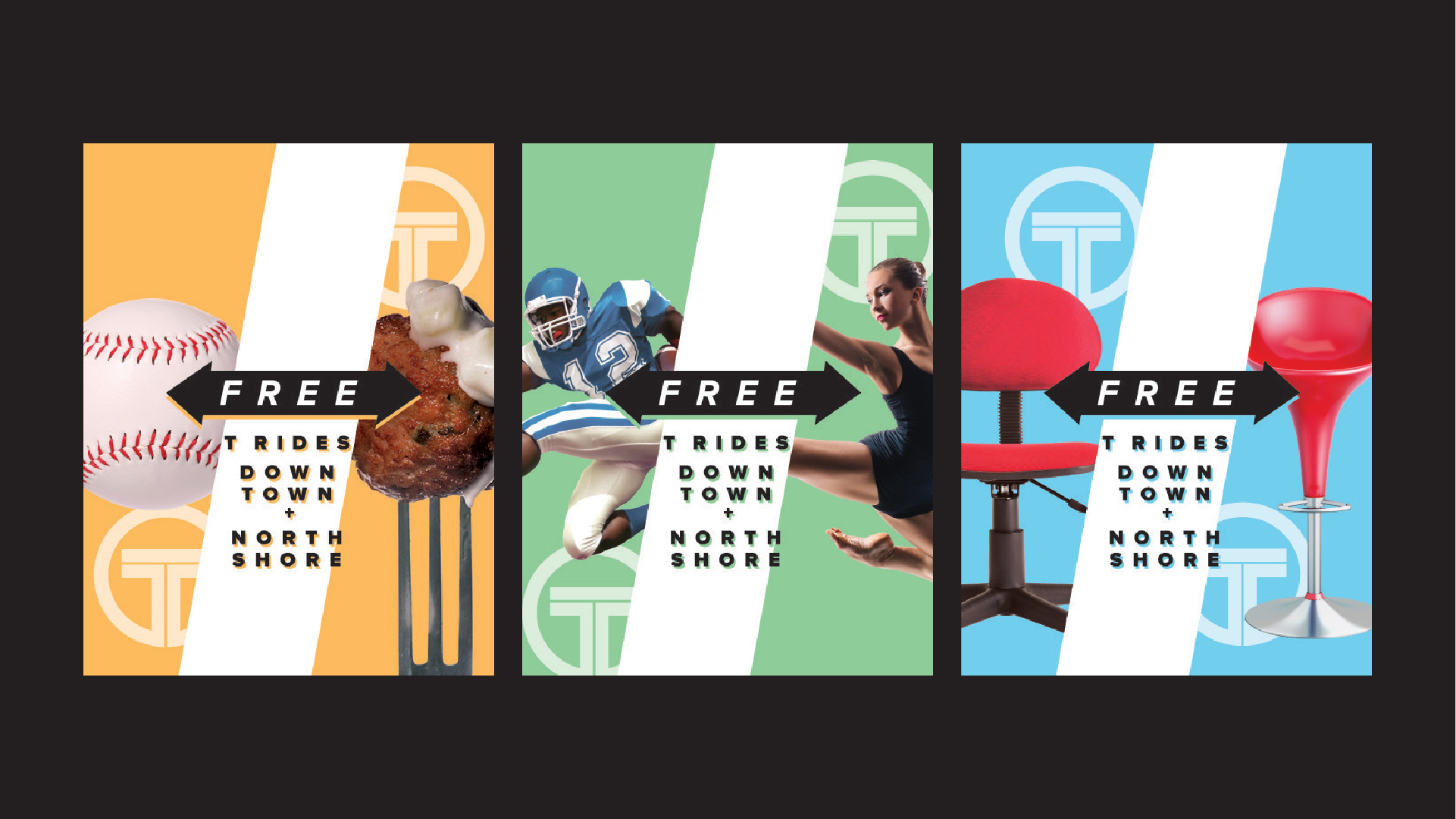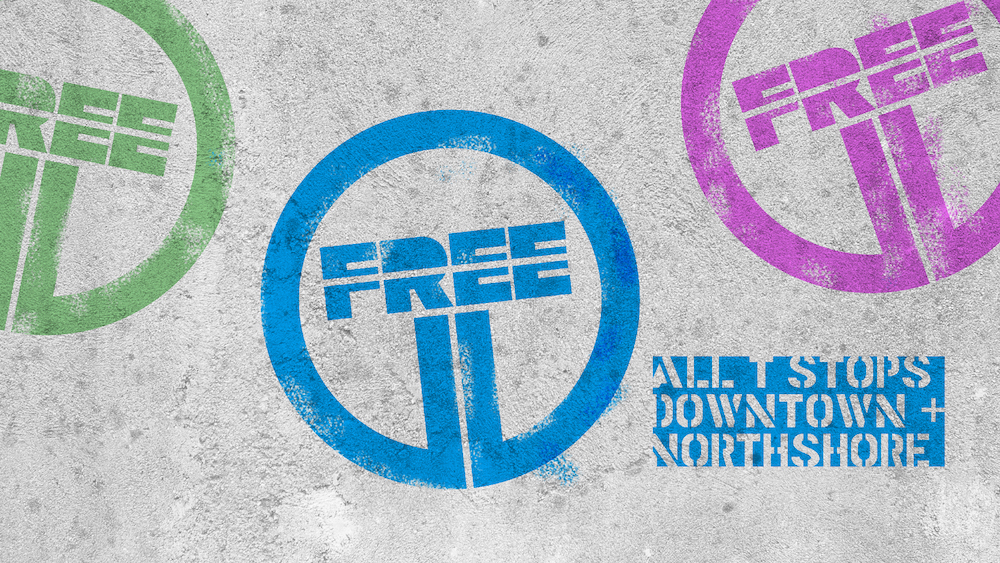 LIFE ON LIBERTY
In support of the Life on Liberty initiative, W|W designed a visual identity system and logo, graphic system, and promotional marketing materials to help Envision Downtown communicate with clarity and reach target audiences. The Life on Liberty project extended the sidewalk on the north side of Liberty Avenue for one year. The resulting space was filled with public art, public gardens, and many pedestrians. The PDP project team painted new murals on the asphalt and installed LED cubes to mark the newly reclaimed public space. The promotional posters were designed to encourage participation in the research process by visiting the Life on Liberty Lab, a temporary retail environment on Liberty Avenue engineered to collect input from different audiences on approximately six different metrics.