Why Pittsburgh and Honolulu?
February 25, 2011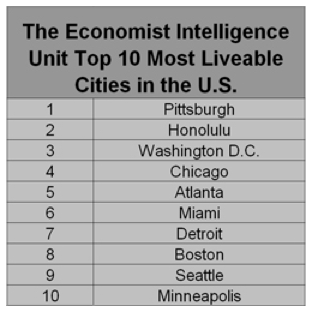 People often ask us "So... why do you have offices in Pittsburgh and Honolulu?" Well, we happen to love living (and working) in both cities, and it seems like the folks at the The Economist Intelligence Unit (the in-house research unit for the Economist Magazine) tend to agree. The annual livability ranking examines the living conditions in 140 cities around the world and rates each city across five categories: stability, health care, culture and environment, education, and infrastructure. (Sadly not a single U.S. city ranked in the world's top 10, or even top 20 of the most livable cities. But in the U.S. look who wound up at number one and two.)
Read more about this story via American Public Media.