Wall-to-Wall Studios Selected by Hawaii Community Foundation to Brand Dalai Lama's Visit To Oahu
February 20, 2012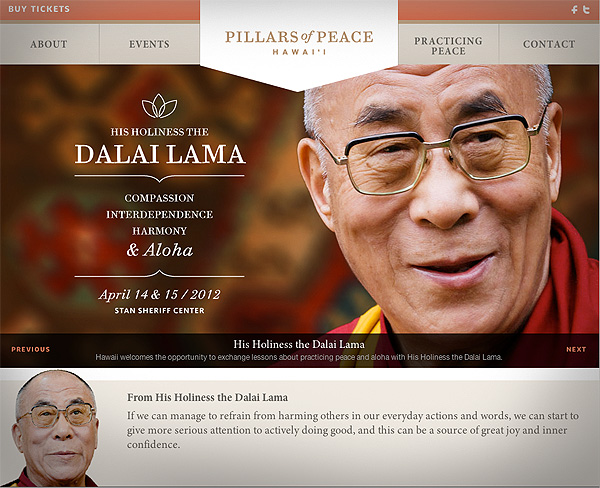 The Hawaii Community Foundation (HCF) announced that it will sponsor two public talks in Honolulu featuring His Holiness the 14th Dalai Lama of Tibet. The talks are part of the Dalai Lama's three-day stay on O'ahu (April 14-16, 2012), where he will participate in a series of conversations with local leaders and visits to important cultural and historical sites.
The Dalai Lama is visiting O'ahu at the invitation of Pierre and Pam Omidyar. Support is being provided by a lead grant from the Omidyar Ohana Fund in addition to other partners. The Dalai Lama's visit marks the launch of a new HCF initiative entitled "Pillars of Peace Hawai'i: Building Peace on a Foundation of Aloha." The program aims to bring global peace leaders to Hawai'i to exchange ideas about the many forms of peace that exist here at home in Hawaii, and around the world. 
"Peace is an active state of being-it is not passive," said Pierre Omidyar. "We hope that the Dalai Lama's visit will inspire people to consciously embrace compassion and apply peace in their everyday lives."
The HCF has chosen Wall-to-Wall Studios to develop the branding, website and integrated marketing campaign for the ongoing Hawaii Peace Initiative in addition to the Dalai Lama's event in April. Tickets for the events can be purchased online starting February 22nd at 6:00 p.m. HST. Additional ticket and event information is available at www.pillarsofpeacehawaii.org. For those unable to attend in person, both events will be available for playback after the events conclude on the Pillars of Peace Hawaii website.
Visit the Pillars of Peace Hawai'i case study.
Visit the Pillars of Peace Hawai'i website developed by W|W.