Wall-to-Wall Studios Launches Website for The Grable Foundation
December 4, 2013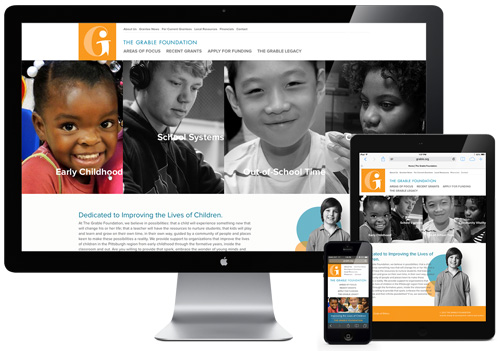 Wall-to-Wall Studios designed & developed the website for The Grable Foundation, a Pittsburgh-based grantmaker focusing investments on children and youth. The Grable Foundation provides support to organizations that improve the lives of children in the Pittsburgh region from early childhood through the formative years, inside the classroom and out, helping southwestern PA become the best place to be a kid. 
The responsively designed website was developed in WordPress and features a customized plug-in to handle the robust grants database. The responsive design approach responds to the user's behavior and environment based on screen size, platform and orientation by using a mix of flexible grids and layouts, images and an intelligent use of CSS media queries. As the user switches from their laptop to iPad to mobile device, the website automatically switches to accommodate for resolution, image size and scripting abilities.
View the Grable Foundation website case study.
View the website.