Wall-to-Wall Studios Designs Campaign For HomeFrontLine At The Silver Eye Center for Photography
September 1, 2011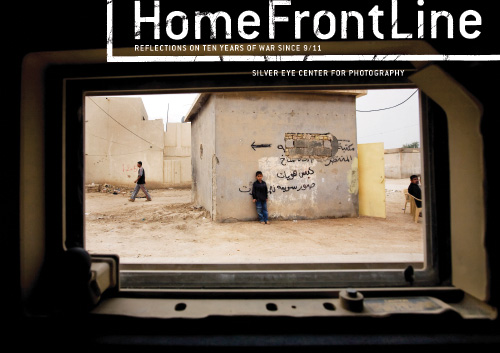 Wall-to-Wall Studios created the promotional design (logo/identity, marketing materials) for HomeFrontLine at the Silver Eye Center for Photography.  HomeFrontLine explores the far-reaching effects of the wars in Iraq and Afghanistan—both on and away from the combat zones—on the occasion of the tenth anniversary of September 11, 2001, and examines the ways in which photography shapes our perceptions of conflict and its consequences. The exhibition features images and multimedia projects by eleven leading documentary photographers and photojournalists. Curated by Leo Hsu and Ellen Fleurov. Photo Credit: Benjamin Lowy, Untitled from the series Iraq/Perspectives I, 2003-2008. Courtesy of the artist.
REFLECTIONS ON TEN YEARS OF WAR SINCE 9/11
SILVER EYE CENTER FOR PHOTOGRAPHY
SEPTEMBER 13 – DECEMBER 10, 2011
OPENING RECEPTION: SUNDAY, SEPTEMBER 11, 3:00 – 6:00 P.M.