The C-Suite: Marketing Trends 2013 Event featuring Wall-to-Wall Studios
January 8, 2013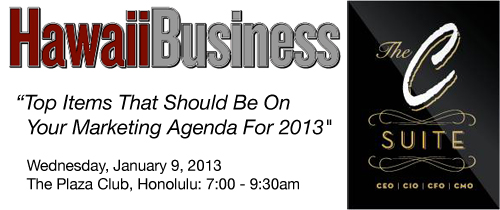 Wednesday, January 9, 2013 - Hawaii Business Magazine presents another in the series of "C-Suite" sessions (Focus: CMO) featuring two dynamic panels, sharing their exclusive secrets & thoughts on "Top Items That Should Be On Your Marketing Agenda For 2013":
• Negotiation tips on to get the most out of your vendors and channels
• Secrets on how to maximize all mediums through a well-orchestrated plan.
• The winning "Marketing Mix."
• Upcoming trends that should be on your radar to help gain a competitive advantage.
• Utilizing the creative process for astute business decision-making.
...and more 
Panel #1
• Bradley Fisher, Senior VP - Strategy & Marketing, Hawaiian Telcom
• Avi Mannis, VP of Marketing, Hawaiian Airlines
• Todd Apo, Director of Public Relations, Aulani: A Disney Resort & Spa
Panel # 2
• Wanda Kakugawa, President & Owner, Market Trends Pacific
• Su Shin, Senior Vice President, Bennet Group Strategic Communications
• Bernard Uy, Co-Founder/Creative Director, Wall-to-Wall Studios (I think we know this guy.)
Registration/Check-In starts at 7:00am at The Plaza Club, Honolulu. Breakfast will be served. Main program to start promptly at 7:25am. There will be two panels to run chronologically, each followed by panel discussion ending with Q&A. David Tumilowicz, Hawaii Business Magazine publisher, will serve as moderator. If you have any questions, please call 808-534-7537.
(Update: This event is sold out. See you there.)